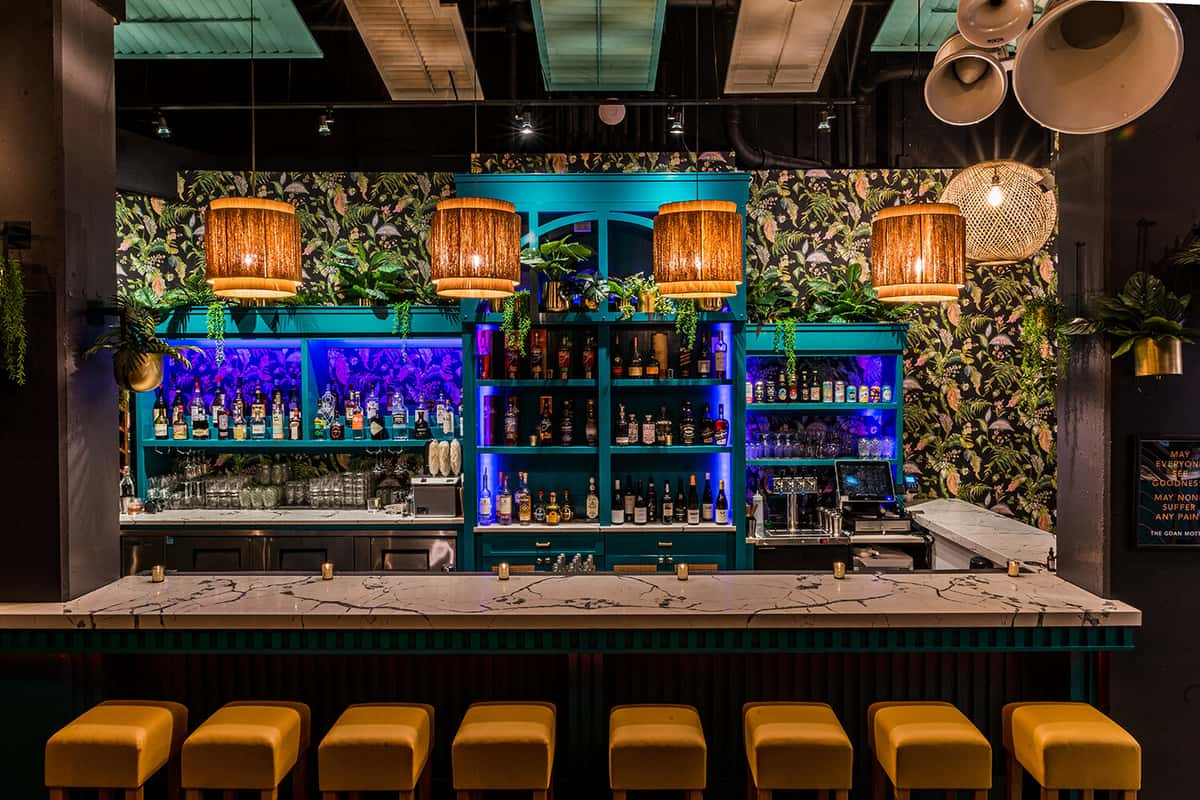 Press
THE RESY GUIDE TO THE BEST BRUNCHES IN CHICAGO
The dinner menu at Bar Goa is served all day long, but the Sunday brunch menu is a streamlined affair, featuring a roasted half chicken, shrimp "pao"-boy, curry omelet, and a chorizo egg sandwich, plus a few sides like fried chicken nuggets and peri peri potato wedges. 
BEST BARS IN RIVER NORTH - TIMEOUT CHICAGO
River North and Streeterville are among the most popular nightlife destinations in Chicago, home to chic nightclubs where you can order bottle service while watching top DJs spin and cocktail bars where mixologists serve up excellent spins on classic drinks plus novel concoctions to suit any taste.
GINS OF INDIA: WHAT YOU'D EXPECT FROM THE SPICY SUBCONTINENT
We had our first Indian gin recently at Bar Goa, in a gin martini, without vermouth, the better to savor the flavors of the highly herbaceous spirit. We knew there were more Indian gins on the menu, so we went back to sample a few with beverage director Allison Kim.
BEST NEW BRUNCHES IN CHICAGO - THE INFATUATION
Brunch is one of the best reasons to put on pants on weekend mornings, and luckily Chicago is full of great options. But in case your go-to spots are starting to feel a little tired, or you just want to try something new, check out one of the restaurants on this guide.
ESCAPE TO THE "IBIZA OF INDIA" AT BAR GOA - TIMEOUT CHICAGO
Here's how Manish and Rina Mallick created a restaurant inspired by Goa, the Indian state famous for its nightlife and white sand beaches. As a teenager growing up in Mumbai, restaurateur Manish Mallick used to spend the summer working for his brother's construction company in Goa, a small state on India's southwestern coast. 
BEST BARS IN CHICAGO - THRILLEST
Where to grab a drink in Chicago right now. Escape the same-sameness of the River North bar scene at this vibrant spot named after the so-called "Ibiza of India." Bright coastal colors and tropical vibes greet visitors to this lively gastropub marrying Portuguese and Indian flavors via dishes such as Pork Vindaloo Sliders and Goan Chicken Curry.