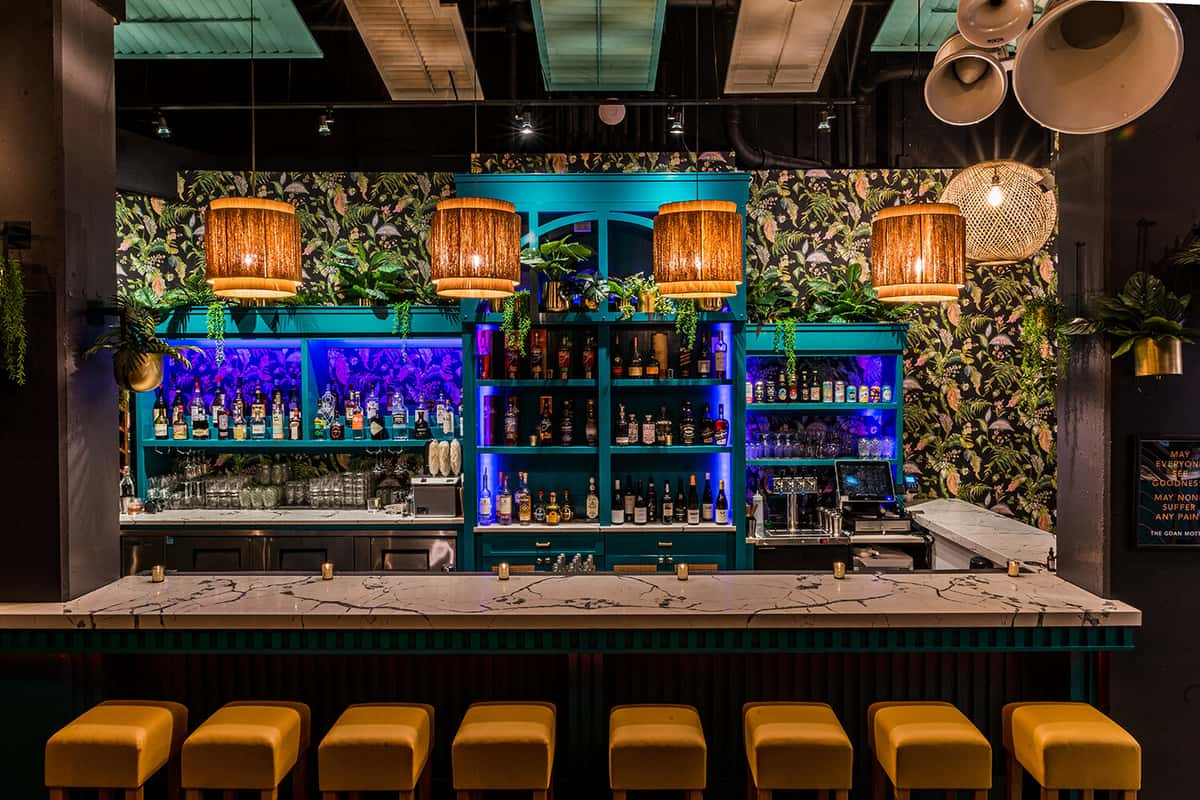 Press
Where to Celebrate New Year's Eve in Chicago - Chicago Eater
Bar Goa will blast into the New Year with a "dress to impress" Bollywood and EDM party with passed hors d'oeuvres, four drink tickets, a Champagne toast at midnight, and VIP booths. Tickets start at $95 and are available via Resy.
The 17 best Indian restaurants in Chicago - TimeOut Chicago
When co-owners Manish and Rina Mallick first traveled to Goa, they were captivated by the region's beautiful white sand beaches and Portuguese architecture. But the coastal Indian state's delicious cuisine left an even bigger impression, with pristine seafood served alongside spicy curry and fluffy poi bread.
Best Indian Restaurant in Chicago - USA 10Best
The Indian gastropub's second year adds an expanded menu, exuberant Bollywood nights and more dishes from India's sunny southwest coast of Goa. Expect flavors from historic Indian and Portuguese cultures of Goa along with popular Indian classics like butter chicken and lamb keema.
The Best Bottomless Brunches In Chicago - The Infatuation Chicago
Bar Goa is a clubby cocktail bar in River North, and is another spot offering bottomless mimosas. It's $25 per person, and comes with a choice of orange or blood orange juice. Come here when you want a bottomless brunch with spicy, flavorful food, and a subwoofer.
THE RESY GUIDE TO THE BEST BRUNCHES IN CHICAGO
The dinner menu at Bar Goa is served all day long, but the Sunday brunch menu is a streamlined affair, featuring a roasted half chicken, shrimp "pao"-boy, curry omelet, and a chorizo egg sandwich, plus a few sides like fried chicken nuggets and peri peri potato wedges. 
BEST BARS IN RIVER NORTH - TIMEOUT CHICAGO
River North and Streeterville are among the most popular nightlife destinations in Chicago, home to chic nightclubs where you can order bottle service while watching top DJs spin and cocktail bars where mixologists serve up excellent spins on classic drinks plus novel concoctions to suit any taste.
GINS OF INDIA: WHAT YOU'D EXPECT FROM THE SPICY SUBCONTINENT
We had our first Indian gin recently at Bar Goa, in a gin martini, without vermouth, the better to savor the flavors of the highly herbaceous spirit. We knew there were more Indian gins on the menu, so we went back to sample a few with beverage director Allison Kim.
BEST NEW BRUNCHES IN CHICAGO - THE INFATUATION
Brunch is one of the best reasons to put on pants on weekend mornings, and luckily Chicago is full of great options. But in case your go-to spots are starting to feel a little tired, or you just want to try something new, check out one of the restaurants on this guide.
ESCAPE TO THE "IBIZA OF INDIA" AT BAR GOA - TIMEOUT CHICAGO
Here's how Manish and Rina Mallick created a restaurant inspired by Goa, the Indian state famous for its nightlife and white sand beaches. As a teenager growing up in Mumbai, restaurateur Manish Mallick used to spend the summer working for his brother's construction company in Goa, a small state on India's southwestern coast. 
BEST BARS IN CHICAGO - THRILLIST
Where to grab a drink in Chicago right now. Escape the same-sameness of the River North bar scene at this vibrant spot named after the so-called "Ibiza of India." Bright coastal colors and tropical vibes greet visitors to this lively gastropub marrying Portuguese and Indian flavors via dishes such as Pork Vindaloo Sliders and Goan Chicken Curry.
WHERE TO EAT BRUNCH IN CHICAGO RIGHT NOW - EATER CHICAGO
Brunch — not quite breakfast, not yet lunch — is one of the best parts of the weekend. The Eater Chicago Brunch Heatmap is here to help by highlighting the newest options for a delicious midday meal.
THE BEST PLACES TO DRINK IN CHICAGO - RESY
Looking for the best cocktail bars, taprooms, pubs, and speakeasies? Here are our favorite places to raise a glass in the city.
CHICAGO'S ESSENTIAL HAPPY HOURS - CHICAGO EATER
Bar Goa shows off regional Indian food by diving into cuisine influenced for the Portuguese occupation of Goa, a coastal town on the eastern part of the subcontinent. For the drinks, the bar uses Indian flavors and fuses them with international flavors, including tiki. Find specials on appetizers like croquettes and chicken wings, plus deals on cocktails, beer, and wine.
PRAWN-AND-CHORIZO FRIED RICE IN FOOD & WINE
This fried rice from Bar Goa in Chicago is savory and spicy, studded with dry-cured Spanish chorizo and juicy prawns, and finished with a sunny-side up egg and golden Madras curry mayonnaise.